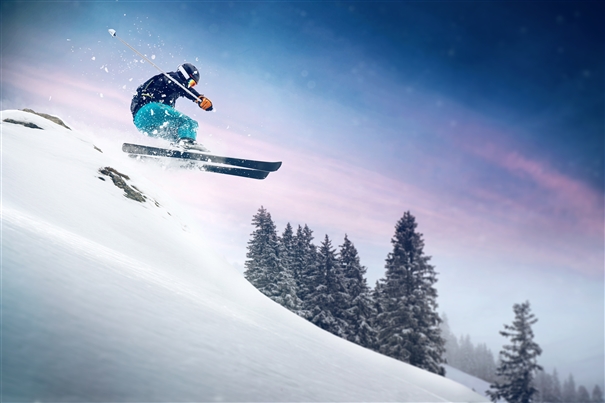 Craving off-piste skiing but want some help getting up? Here are five of the world's most epic - and lift-accessed - off-piste ski descents.
Sick of all the packed snow on the pistes? From the Vallée Blanche under full moonlight to a leap of faith at Wyoming's Jackson Hole, and from anti-commercialist La Grave to the club ski fields of New Zealand, not to forget Verbier's must-do off-piste itinerary; here's a taste of lift-serviced backcountry at its finest...
1. Corbet's Couloir, Jackson Hole, Wyoming
You have to get up close and peer over the edge to see the drop. Many retreat a few times before plucking up courage.
In between the teeth of the Teton range and the Snake River lie two peaks, Rendezvous and Apres Vous, which host the famous Jackson Hole ski area. Apres Vous is a bit milder; Rendezvous accesses a huge area of incredible lift-accessed backcountry, including Jackson's signature couloirs, of which Corbet's is the most famous. At 40 degrees and 15m wide, it's more difficult psychologically than technically. The lip is corniced so you can't see below. Depending on conditions, you'll catch between 2-10m of air. Jump from the left to catch the least air, but you'll have to make an immediate turn to miss a rock. Jump from the right and you'll have more time to turn but you'll be free-falling for longer. Take your choice!
2. Vallée Blanche, Chamonix, France
The Vallée Blanche by full moonlight should be on every skier's ticklist.
This world-famous 20km off-piste run is not technically difficult but take a guide if you don't have the right experience or kit as it's heavily crevassed. It's beautiful at any time of day, but otherworldly when the moon is glinting off the icefalls and seracs. Get the last lift to the top of the Aiguille du Midi needle (3842m) and kit up while watching the alpine glow deepen on the surrounding peaks. Ski amidst alpine giants like the Dent du Géant, Grand Capuchin and Les Drus to reach the Requin Refuge, where you could stop for dinner. Finally continue to emerge on the Mer de Glace, France's largest glacier. Earlier in the day you can take the Victorian rack and pinion train back to town from here, but by night you'll have to combat ski there.
WATCH: Our ski skills playlist from BMC TV
3. La Grave, France
The tiny 12th century village of La Grave has only one ski lift and one marked run...
Yes, there's only one rickety lift, which clanks you up towards the razor ridges of 3,984m peak La Meije. La Grave is 40 minutes from the resort of Les Deux Alpes and provides a stark contrast to its 100 pistes, 50 lifts and expensive, polished air. Apart from that one marked run, everything - powder bowls, wild glaciers, crevasses, cliffs, ice falls, seracs and the rest - is left to your imagination and skills to navigate. After any significant weather, a group of guides ski the mountain and report to the mayor, who decides if the lift will open. It's uncertain whether this unique place can continue to resist commercialism forever, so go before it's too late.
4. Backside Mont Fort, Verbier
The classic must-do off-piste itinerary in Verbier is a steep, glaciated adventure.
From the top of Mont Fort, escape the crowds by ducking under the rope and trending left on a traverse above cliffs. From here there are options to reach the Cleuson Dam at the bottom and opportunities to explore by traversing or hiking. At the beginning it's very steep in places, and further down there are rolling and flat sections over the Petit Mont Fort Glacier and the frozen Grand Desert Lake - so you'll need to maintain speed at various points and be prepared to push along. A path along the edge of Lac Cleuson leads the way towards the Tortin piste and the chair lift in Siviez. It's a stunning adventure.
5. Canterbury Club Ski Fields, New Zealand
Get your nutcrackers at the ready.
You'll need a 4x4 and adventurous spirit to reach one of New Zealand's characterful little club ski fields. In the 30s, winter sports enthusiasts hiked up the mountains here to explore and built basic huts and rope tows. The atmosphere hasn't changed much since then! Craigieburn is the most famous. It's a favourite place of Glen Plake's; most of the (ungroomed) runs are nonchalantly described as 'expert' or 'tricky' and a handful are actually 'suicidal'. There are other, gentler club fields though: each has its own character. You use a mountaineering harness and 'nutcracker' to grasp the rope tow. It's tricky to master, but when you do, deep untracked winter powder, wide open bowls, steep challenging chutes, and easy hiking access to extensive out-of-bounds bowls, peaks and ridges beckon.
Have fun!
BMC travel insurance is loaded with the essential cover that you need for adventure.
To make planning your trips easier, we've added Covid-19 cover into all five BMC Travel Insurance policies: Travel, Trek, Rock, Alpine and Ski and High Altitude.