words by Dr Cath Flitcroft
The most sustainable product is the product you already own. We've pulled together a list of retailers and organisations who can help you re-use, repair or recycle your old or unwanted clothing and outdoor kit.
Textile waste is a global issue that brands are increasingly required to take responsibility for so now there are more and more opportunities to help us reduce this waste and repair or dispose of our old kit responsibly.
Outdoor clothing in particular, contains synthetic fabrics such as nylon and polyester that are made from thin plastic fibres. These man-made substances can have an impact on the environment where they are used so reducing the environmental impact of our products at all stages of their life cycle is essential if we are to reduce our impact.
Recent data from the Waste and Resources Action Programme (WRAP) suggests outerwear made up the bulk of items the public chucked away (37%) followed by shoes (19%).
The most sustainable product is the product you already own. This means keeping it out of landfill and using it for as long as possible before recycling it or donating it to someone who will continue to use it.
Here at the BMC, we have pulled together a list of retailers and organisations who can help us re-use, repair or recycle all of your old or unwanted kit.
Re-use / Donate 🤝
Cotswold Outdoor / Snow+Rock / Runners Need: Recycle My Gear
Drop off bins can be found in stores across the country. They'll take clothes of any quality and brand, home textiles, paired shoes (including climbing shoes) of any quality and brand (best bound together), garments that are ripped, have holes and permanent stains
Outdoor Gear Exchange
Outdoor Kit Exchange
Buy, sell or trade your old outdoor kit on Facebook

The North Face: Clothes The Loop
Ellis Brigham
They're working with homeless charities across the UK to recycle outdoor gear to give it a second life.

Gift Your Gear
Provides donated outdoor clothing and equipment to UK community organisations and supports organisations working with young people in the outdoors.

Decathlon: Second Life
All Second Life products have been marked in transit or quickly tested by our customers, leaving them with small, superficial scratches. This means they can't be sold as new, but they're still in great working order.

Mountain Warehouse
Several retailers are part of a scheme where you can donate unwanted clothing to a charity and receive discount vouchers in return, a way to reduce it being thrown away and diverted from landfills. https://regain-app.com/
Osprey
Ex-sample and preloved, repaired rucksacks

Blue Bird Exchange
Reclaiming, repairing and redistributing outdoor gear (Edinburgh area)
https://www.bluebirdexchange.co.uk/

Outdoor Gear for Good
They take excess inventory of outdoor clothing at no charge, supply approved outdoor-related charities, recycle in the best way that they know, recover value from the best inventory and give all profit to charity.
https://www.outdoorgearforgood.com/who-benefits
Outdoor Gear For Good sells donated products from its UK eBay shop, with 100% of the proceeds being donated to conservation charities.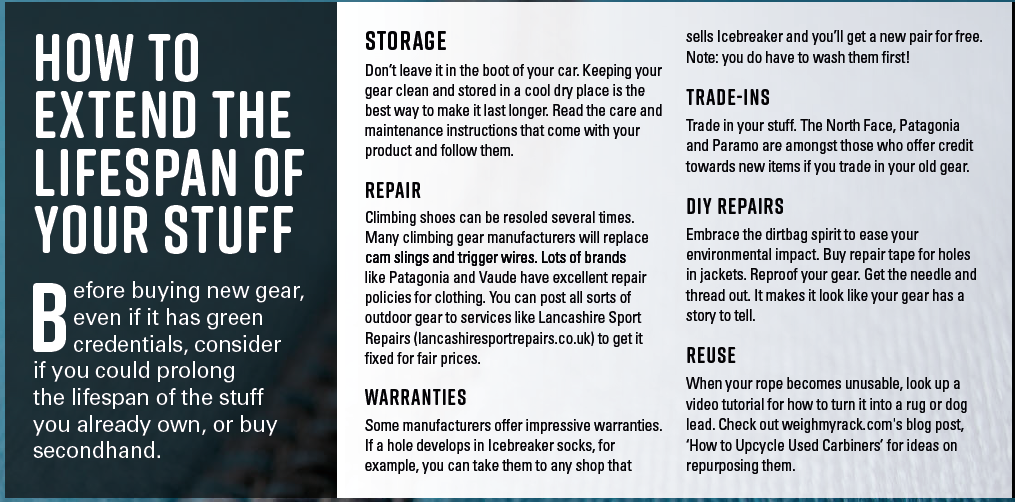 Repair & Clean🧵
Cotswold Outdoor: Repair and Care
Get your gear repaired, from jackets to sleeping bags
Montane Repair Service
In-house repair team help extend the lifetime of your product with a variety of repairs which include; patch and panel repair, stitching repairs, seam re-taping and zip slider repair.
Mulch Repairs
'Mulch and the Broken Thing' is an outdoor clothing and kit repair workshop based in Sheffield. Drop your items off at The Climbing Works if you need zip replacements, new baffle panels or cuffs in a jacket, boulder pad repairs, a seat patch in your favourite shorts or long pants, rucksacks, tents, sleeping bags, custom alterations, up-cycling.

Llanberis Resoles

Alpkit Repair Station

Patagonia: Worn Wear Tour
Bring old gear from any brand to be repaired
Patagonia care and repair for your kit

Rab
Down & Synthetic Clothing Repair
Clean and repair service
https://rab.equipment/uk/?rab_live_uk_products%5Bquery%5D=repair
Lancashire Sports Repairs
Repairs on all outdoor brands like clothing, footwear, rucksacks, tents & sleeping bags
Feet First (Derbyshire)
Outdoor footwear repair service
Berghaus Repairhaus
Vango
Tent Repair, Awning Repair, Sleeping Bag Repair & Rucksack Repair

Tiso
Footwear repairs at their Edinburgh store

3rd Rock
MEND ME with an upcycled Repair Club patch, made from trouser leg offcuts.
Mulch and the Broken Thing
https://www.mulchandthebrokenthing.com/
Rerun Clothing

The Waxed Cotton Workshop
https://thewaxedcottonworkshop.com/
Down Cleaning
https://www.downcleaning.co.uk/
Ox Wash
Sustainable laundry and cleaning service (Oxford, Battersea, Cambridge)
Recycle ♻️
Rab
They are piloting a down collection scheme in the UK, trying to close the loop and collecting worn-out down products like old down duvets, pillows, jackets, sleeping bags and more, before giving this valuable material a new lease of life.

Green Peak Gear
Working closely with a number of climbing walls to collect unwanted gear.

Scavenger
Together with Green Peak Gear, Scavenger are on a mission to provide alternatives to sending retired climbing gear to landfill. In many of the climbing centres across the UK, Scavenger have set up collection points where climbers can donate their old gear.

Dirt Bags Climbing
Recycling old outdoor and climbing gear and saving it from landfill.

Make your own rope rugs

Ideas on where to get patterns - some rope manufacturers include instructions with the new rope.
Crackpacs
Backpacks and bags made from repurposed canvas tents and outdoor gear.
Hard Hat recycling – Yes Recyling
The scheme is a membership scheme, whereby registered members can send their hard hats directly into a dedicated hard hat recycling facility where they will be destroyed, with all of the plastic being fully recovered and made back into "new" plastic pellets.
FURTHER SUGGESTIONS
Ensure you follow guidance and instructions on how to look after your kit and keep it clean
Look for local organisations that collect winter clothing, usually for those who are homeless or new refugees
Consider contacting your local zoo, they often need old ropes.
GET IN TOUCH
We would like to keep this list as up to date and as complete as possible.
If you know of other useful organisations and retail outlets who are offering a recycling, repair or re-use service, please drop us a line and we'll add it to the list.
Email: cath@thebmc.co.uk